Pressure
Relief Valves
Pressure relief valves are designed and engineered to provide high-volume discharge primarily for use on liquid receiver applications above the liquid refrigerant level. Models are available with multiple seat configurations, high pressure settings, and certified for use with R410a refrigerant. Combine a relief valve with rupture disc to relieve an over pressure condition and pressure gauge to reveal visual indication.

back ↵
RELIEFMASTER® Change-Over Manifold
Designed to provide continuous system protection in the event of relief valve rupture, RELIEFMASTER® Change-Over Manifolds use a common body chamber to serve as the base for two independent relief valves. A system can remain fully operational when valves require service or replacement.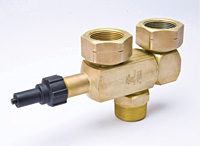 Quality & Technical Information
Design Pressure (DP) / Maximum abnormal pressure (MAP): 700 psig, 48 bar
Continuous operating temperature (COT): -40°F/300°F, -40°C/149°C
Allows easy replacement of attached relief valves and rupture discs while the system is operative.
Dual internal seats ensure complete isolation of individual circuits.
Available with various inlet connections.
Multiple cap options available.
cRUus Recognized by UL
---
Uses
Refrigeration
Air Conditioning
Specifications & Technical Drawings