Pressure
Relief Valves
Pressure relief valves are designed and engineered to provide high-volume discharge primarily for use on liquid receiver applications above the liquid refrigerant level. Models are available with multiple seat configurations, high pressure settings, and certified for use with R410a refrigerant. Combine a relief valve with rupture disc to relieve an over pressure condition and pressure gauge to reveal visual indication.

back ↵
Rupture Disc and Pressure Gauge – NPTFE x NPTFI
Rupture discs are non-resealing system safety devices that are typically used in conjunction with pressure relief valves, and are designed to function in accordance with specific country codes to prevent and protect the operation of systems and vessels above allowable safe levels. The domed style non-fragmenting disc is housed inside a single piece brass body, that has two threaded access ports for gauge and transducer installation, which provide a visual and electronic signal for opening indication. Rupture discs have been designed to be used with relief valves to prevent any leakage through the PRV, and a total loss of refrigerant after the disc bursts.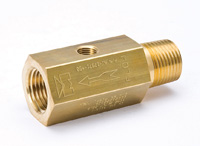 Quality & Technical Information
Continuous operating temperature (COT): -40°F/300°F, -40°/149°C
Compatible with all CFC, HCFC and HFC refrigerants and oils
CE Certified Category 4 Product, Certified to meet ASME Code
One-piece brass design assures setting accuracy
Non-fragmenting disc
---
Uses
Refrigeration
Air Conditioning
Specifications & Technical Drawings