Engineered to exceed
the most stringent quality standards.
Mueller Refrigeration offers a complete line of Inline, Four Bolt, and Magnetic check valves. Inline check valves are designed for maximum flow and minimum pressure drop; Four Bolt check valves that can overheat and damage internal components.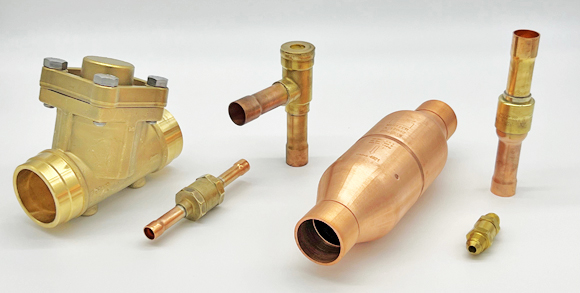 back ↵
Style: Magnetic
CHECKMASTER® Magnetic check valve series offers the latest technology in valve design with DuraForm processing, a manufacturing method eliminating the use of braze materials for internal component installation. The result is a valve that can be installed with hard or soft solder and exhibits a near zero leak rate with exceptional performance characteristics.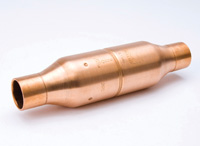 Quality & Technical Information
Design Pressure (DP) / Maximum abnormal pressure (MAP): Up to 800 psig, 55 bar
Continuous operating temperature (COT): -40°F/300°F, -40°C/149°C
UL/cUL Recognized, Conforms to EU Pressure Equipment Directive and UK Pressure Equipment Regulation
Built-in 30 mesh stainless steel screen
Internal components installed with DuraForm Technology
Mechanically formed solder cup stops for easy installation
Flexible for installation in vertical or horizontal position
Hermetically formed solid copper body assures zero leak potential
---
Uses
Refrigeration
Air Conditioning

Specifications & Technical Drawings